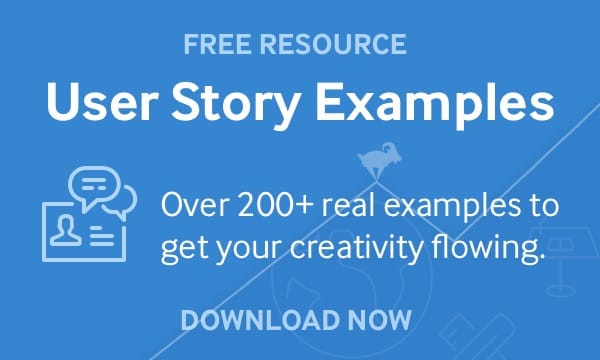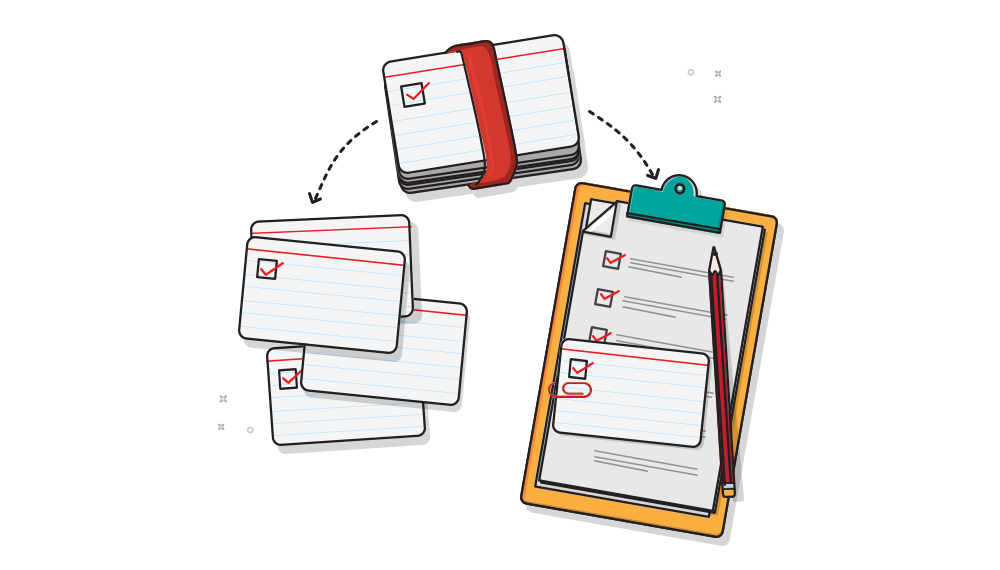 Over 200 User Story Examples
This blog post refers to a four-part series of videos on overcoming challenges with user stories. Topics covered are conducting story-writing workshops with story maps, splitting stories, and achieving the right level of detail in user stories.
To be notified when you the videos are again available, sign up below:
This past week we've given away free online training and a number of resources to help you combat some of the most vexing problems agile teams encounter when writing user stories.
Now it's time to open the doors to the full course: Better User Stories.
"In my 30 years of IT experience, this class has without question provided the most 'bang for buck' of any previous training course I have ever attended. If you or your organization are struggling with user stories, then this class is absolutely a must have. I simply can't recommend it enough. 5 Stars!!" - Douglas Tooley
If you watched and enjoyed the free videos, you'll love Better User Stories. It's much more in-depth, with 9 modules of advanced training, worksheets, lesson transcripts, audio recordings, bonus materials, and quizzes to help cement the learning.
Registration for Better User Stories will only be open for one week
Click here to read more about the course and reserve your seat.
Because of the intense level of interest in this course, we're expecting a large numbers of people to sign-up. That's why we're only opening the doors for one week, so that we have the time and resources to get everyone settled.
If demand is even higher than we expect, we may close the doors early, so if you already know you're interested, the next step is to:
Choose one of 3 levels of access. Which is right for you?
I know when it comes to training, everyone has different needs, objectives, learning preferences and budgets.
That's why you can choose from 3 levels of access when you register:
Professional - Get the full course with lifetime access to all materials and any future upgrades
Expert Access - Acquire the full course and become part of the Better User Stories online community, where you can discuss ideas, share tips and submit questions to live Q+A calls with Mike
Work With Mike - Secure all of the above, plus private, 1:1 time with Mike to work through any specific issues or challenges.
Click here to choose the best level for your situation
What people are already saying
We recently finished a beta launch where a number of agilists worked through all 9 modules, providing feedback along the way. This let us tweak, polish and finish the course to make it even more practical and valuable.
Here's what people had to say: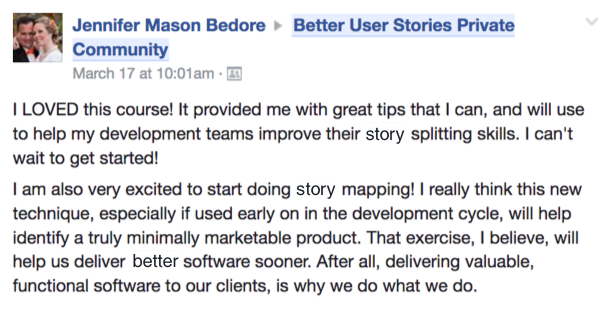 ---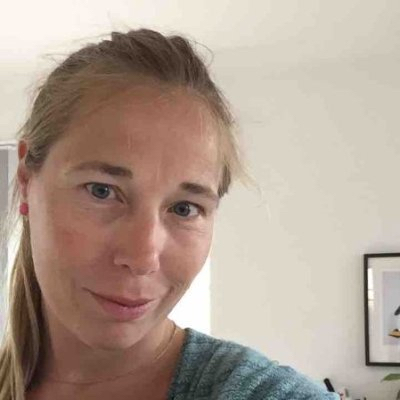 Thank you for an amazing course. Better User Stories is by far the best course I have had since I started my agile journey back in 2008.

Anne Aaroe
---

---
Packed full of humor, stories, and exercises the course is easy to take at one's own leisure. Mike Cohn has a way of covering complex topics such as splitting user stories with easy to understand acronyms, charts and reinforces these concepts with quizzes and homework that really bring the learning objectives to life. So, whether you're practicing scrum or just looking to learn more about user stories this course will provide you the roadmap needed to improve at any experience level, at a cost that everyone can appreciate.

Aaron Corcoran
---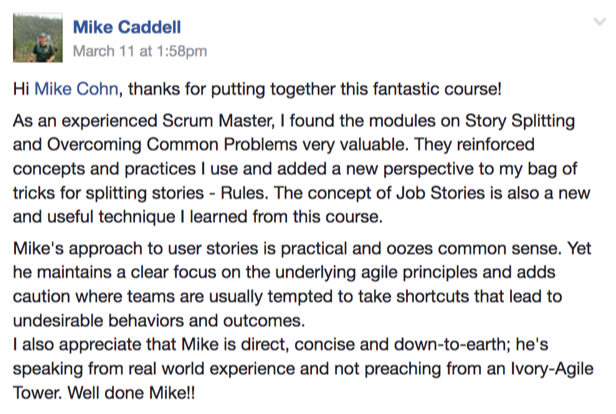 ---
Click here to read a full description of the course, and what you get with each of the 3 levels of access. Questions about the course?
Let me know in the comments below.