Thank you for contacting us. We will reply to your inquiry shortly.
If you're a Scrum Master (or any member of a Scrum team) who is trying to change some behavior with your team, consider asking one of the team members to help you out by subtly signaling that you're doing the thing you don't want to do. Something as simple as a nose touch, like this signal from the movie "The Sting" will suffice.
P.S. Did you just happen to stumble across this page? This was connected to a weekly tip related to agile and Scrum that Mike Cohn delivers to your inbox. If you haven't yet signed up, it's fast and simple, and you can do it here.
<!-- This is not visible. This page is a container for homepage variations -->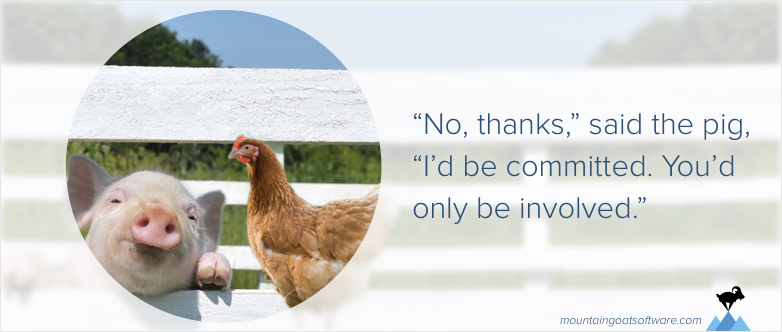 There is a story in Scrum about a chicken and a pig.
One day the chicken decides that the two should start a restaurant.
The pig is intrigued by the idea and says, "That sounds great. I'm an entrepreneurial type of hog. I'm sick of working for the farmer. But what are we going to call the restaurant?"
The chicken thinks. Then she scratches and pecks at the dirt and suggests, "Ham and Eggs!"
To which the pig replies, "No thanks, I'd be committed. You'd only be involved."
The Difference Between Commitment and Involvement
This story is told in Scrum circles to point out the difference between commitment and involvement.
The original idea was that the development team members and Scrum Master were committed, but the product owner was merely involved. It was used to claim that the product owner should not participate (or even attend) the daily scrum.
I've never been fond of that way of thinking. It sets up an unnecessary divide between team and product owner. Further, who can be more committed to the success of a project than the product owner, who is sometimes called the "single wringable neck" in Scrum literature?
Thank you for your on-site training inquiry. We will be in touch with you shortly.
You can find out more information on our on site training and available courses here:
Join more than 36,000 others and receive new tips from Mike Cohn direct to your inbox every Thursday.