Certified Scrum Product Owner with Lance Dacy
Learn how to use Scrum to be an effective Product Owner
All course materials are provided in a binder and on a USB drive
Earn 15 PDUs and 16 SEUs with this course
First 2 years of ScrumMaster certification fees
Option to claim a pre-paid one year membership to the Scrum Alliance
All meals and refreshments provided
previously $1300

$1100 through 10/8
Available Discounts
Save
$
100
per person
when you register 3 or more people
Save
$
200
per person
when you register 10 or more people
About This Course
Lance Dacy will give you the tools, techniques and real-life advice to become an effective Product Owner. Over 2 days you'll learn how to:
Develop a clear project charter that inspires and motivates a team
Define the product backlog and transform epics and themes into actionable user stories
Apply a methodical approach for prioritizing items in the product backlog
Get a clear view of individual roles, responsibilities and how they interact
Produce accurate plans for fixed-scope and fixed-date projects using velocity ranges
Guarantee
We are so confident that you will benefit from our training that we offer a 100% money back guarantee. If you aren't satisfied with the training you received, contact us within thirty days to receive a full refund of the registration fee, no questions asked.
Refund Policy
You will receive a full refund if you cancel at least 14 calendar days before the first day of class. If you cancel within 14 calendar days, a 30% cancellation fee will be charged, and you will receive the remaining 70% as a credit toward a class to be taken within 18 months from the date of the canceled class. If you cancel within two business days from the start of a class, or if you do not attend the class, you will not be eligible for a refund or credit. All cancellation requests must be made via email to
[email protected]
Big Agile [Lance] has helped us since the beginning of our Scrum transition becoming a trusted part of our organization. The difference in Big Agile from other contracting partners is Lance's success in the real world before becoming a CST. Lance doesn't just know the theory he also knows how to apply the theory, speak with the whole programming department and to Executive Leadership on where to improve. Lance is technical enough to help highlight engineering areas for improvement and business minded enough to call out organizational areas of improvements.

Matt Kenney
Director of Product Engineering
Lance has a great demeanor and approach that really resonated with the team. His background and knowledge helped guide the team through many of the challenges of changing the way we work. If you are looking to step change how your organization delivers software, I couldn't recommend Lance more.

Dan Stewart
VP of Marketing/eCommerce
Lance's "Working on A Scrum Team" training class was informative, interactive and engaging. Our teams found the onsite group training very effective to get everyone (Product Owners, Scrum Teams, Scrum Masters) aligned on the same concept, approach, and best practices… Most importantly, he still works with scrum teams in the trenches and is able to provide thoughtful suggestions for difficult situations.

Lu Feng
Sr. Director PMO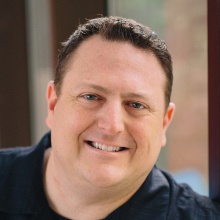 About Your Instructor – Lance Dacy
Lance is a dynamic, experienced management and technical professional with the proven ability to energize teams, plan with vision, and establish results in a fast paced, customer-focused environment. He is a Certified Scrum Trainer® with the Scrum Alliance which includes Certified Scrum Professional®, Certified ScrumMaster®, and Certified Scrum Product Owner®. Lance comes equipped with a great personality and servant heart that truly helps build cross-functional teams. Given his fun personality, overall size and appearance, he has come to be known as BiGAgile.
Lance has lead teams of agile coaches and managers to sustain cross functional, self-organizing teams focusing on delivering the highest business value for their customers as early as possible through the Scrum process and agile engineering practices/craftsmanship. Getting a product truly "Done" takes discipline and his focus is on shaping a team's definition of done to include great engineering.
Lance is a true evangelist for Scrum having founded the successful DFW Scrum User Group as an outlet for professional networking and a community sounding board for Scrum. He has engaged and learned from many of the Agile Manifesto authors which has shaped his pragmatism in agile adoptions and transformations.
In his latest work, he has sought the metrics inherent with Scrum to help improve a team's planning and predictability; building confidence in their delivery for the business and customers.