The PlanningPoker.com team has been quite busy. A couple of months ago, they launched a brand new design and mobile support. Since then, they have continued to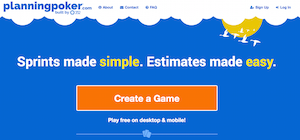 improve the site based on your feedback.
Now, they've launched PlanningPoker.com's first set of premium features. While these premium features do require a monthly fee, the base game will always be free.
Visit PlanningPoker.com to see these new features in action:
Import and export from JIRA and other backlog tools
Add and edit story details and acceptance criteria within the game
Monitor remaining team velocity while estimating
Build custom pointing scales
Save your default game settings
… and more.
Digital product development agency 352 Inc. is the team that created the new PlanningPoker.com, and they're committed to making it the most helpful and efficient way to run your planning sessions. They are also open to your feedback on how to improve the product.
Give the new features a try and let them know what more you would like to see. To learn more about Planning Poker in general, check out our informational page on it.