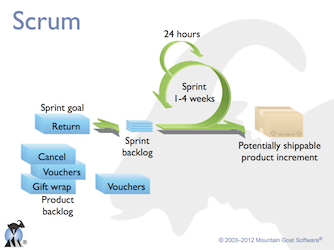 This is a 90-minute or so introduction to Scrum that is fully redistributable and reusable. This agile PowerPoint presentation is ideal to introduce Scrum to your organization or present to a user group. Add your favorite exercises and you can easily create a half-day introduction to Scrum. The presentation is provided in a variety of formats including Apple Keynote, PowerPoint and OpenOffice.
If you'd like to provide a new translation of this agile PowerPoint presentation, please email it to info@mountaingoatsoftware.com.
Please acknowledge the source but please use the presentation widely.
This presentation is licensed under a Creative Commons Attribution-No Derivative Works 3.0 United States License.