I'm very excited to let you know that we now have an online course on Agile Estimating and Planning. The course is a series of videos and interactive quizzes. Videos are a combination of screencast (slides) and live action of me. All videos are extremely professionally done--no handheld video camera or recordings of me talking into my iPhone. The entire course is now available on the Mountain Goat Software site. Check out the free previews.
The course can be purchased for streaming or for streaming + download. We also offer group discounts and an innovative, easy way for someone such as a manager, ScrumMaster or similar to buy and distribute licenses to team members. The 44 videos are interspersed with 9 interactive quizzes. If you miss a quiz question, you get immediate feedback telling you what the right answer is. This approach may not hold up to some certification organization's rigor, but it's sure a helpful way to make sure you've learned the topic. You can see an example below.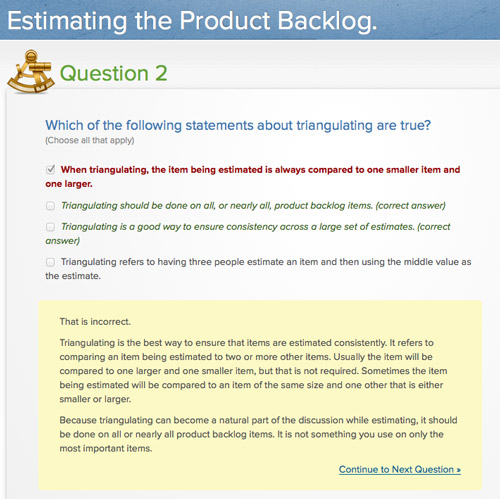 The course qualifies for 4 PDUs from the Project Management Institute and is perfect for PMPs or aspiring PMI-ACP candidates. At the end of the course, you earn a Certificate of Completion as proof of your participation. Overall this course has been in development for 16 months and we're hopeful you'll be able to see the attention to detail we put into it. I hope you find this news as exciting as I do.
Please help me out by spreading the word to your friends, coworkers, grandmothers, and anyone else who might be interested. Thank you.