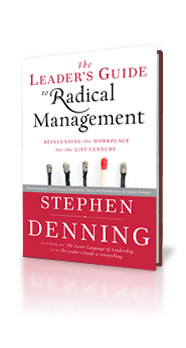 If you want to see want agile look likes when applied at the corporate level, check out the new book, The Leader's Guide to Radical Management, by Stephen Denning. Denning is the author of a handful of other excellent, award-winning books and this one is his best yet. As he describes in the book, Denning set out to discover why so many of today's organizations are struggling. His research led him to agile and Scrum where he found that these processes were reinvigorating teams and even organizations. His new book looks at what he saw in these teams and companies and distills it into seven principles. The seven principles of radical management are:
Delighting Clients
Self-Organizing Teams
Client-Driven Iterations
Delivering Value to Clients in Each Iteration
Radical Transparency
Continuous Self-Improvement
Interactive Communication
Sound familiar, don't they? This book takes these principles we've uncovered from doing agile software development and describes how they can be applied at the level of the organization as a whole, not just a single team or even a product development group. This is the book you give your managers and company executives. It could be the book you've been looking for to help you get agile or Scrum spread outside the development group so that it can transform your organization. I highly recommend it.
A Special Offer on this Book
Here's something you don't want to miss. Buyers of this exciting new book can receive an amazing set of bonus gifts and tools, in some cases worth thousands of dollars, when they purchase the book during the initial launch period beginning on Sunday October 24 at 4pm US EST. Check out the offer on SteveDenning.com. I promise you won't regret it.