I first stumbled across Ilan Goldstein, author of Scrum Shortcuts without Cutting Corners, when a Web search led me to his blog of Scrum shortcuts.
He hadn't written a tons of shortcuts at that time, but the few he had were tremendously helpful -- and funny. I knew Ilan was onto something, so I asked if he'd consider writing a book of shortcuts for the Mike Cohn Signature Series.
Scrum Shortcuts without Cutting Corners is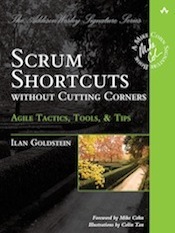 the result. It's stacked with 30 tips, covering the full gamut of a Scrum implementation.
He offers tips on:
How to get started
Requirements
Estimating and planning
Quality and metrics
Team members and roles
Managing bosses
Continuous improvement
If you've struggled with anything on a Scrum project, it's likely Ilan has a shortcut to help you.
Ilan's tips come from experience as a ScrumMaster and Certified Scrum trainer. They're practical, not theoretical. He's also not afraid to take a stand. Too often, many books rely on the answer of "It depends." You won't find that here.
Whether you're a month, a year or decade into Scrum, I'm certain you'll find shortcuts in this book that will help you improve.