You may have noticed we've been adding agile project management tools to the Mountain Goat Software website occasionally. We have a tool for calculating a confidence interval around your velocity data as well as various tools for prioritizing user stories or projects against one another. I've got a new tool to announce today—Project Success Sliders. Project Success Sliders were initially created and devised by Rob Thomsett in his book, Radical Project Management. Sliders are a way for a product owner (or collectively all key stakeholders) to convey expectations to the team. By default there are six sliders, each of which reflects some dimension by which project success can be determined—for example, delivery of all planned features, quality, meeting an agreed upon schedule. This can be seen in this figure: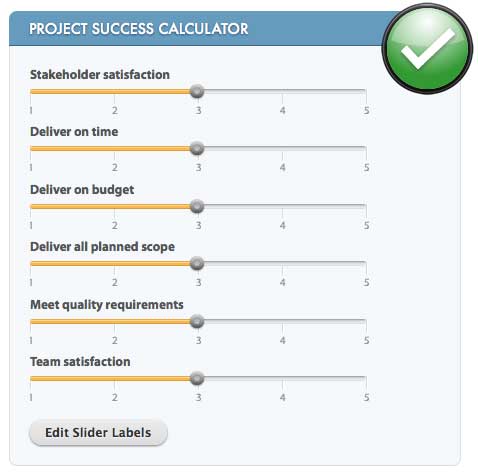 Each slider starts at a value of three along a continuum from one to five. The product owner or key stakeholders then moves sliders up or down to reflect the appropriate mix of factors in determining the success of the project. Stakeholders are prevented from simply moving all sliders to five by a rule that that every movement up must be offset by a corresponding move down.
If sliders are out of balance (e.g., too many have been moved to higher numbers), the green checkmark in the upper right is replaced by a red circle and number showing how far out of balance the sliders are as you can see in this figure: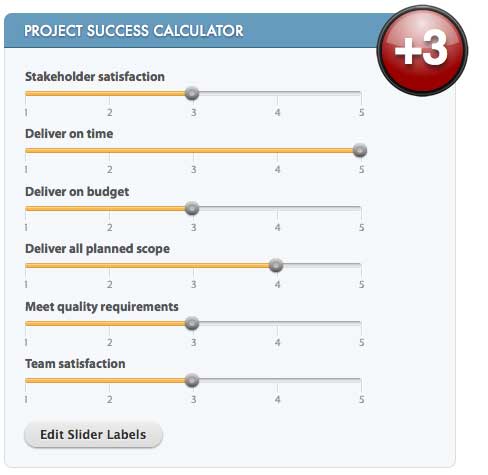 Sliders are brought back into balance when the product owner or stakeholders made additional adjustments to the sliders as shown in this example: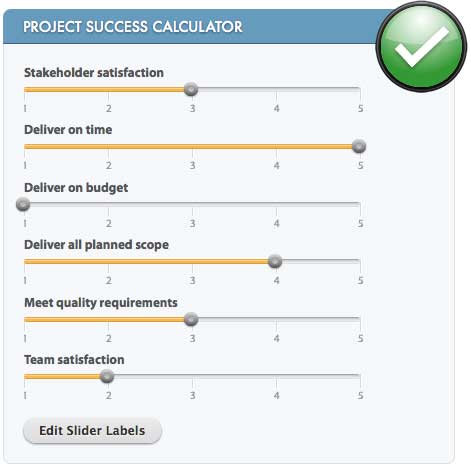 Project success sliders can be a useful way to create an appropriate dialogue between stakeholders and team members about how success will be defined on the project.
Be sure to check out our Project Success Sliders tool and let me know what you think