"Liberté, égalité, fraternité" is the national motto of France, and originated during the French Revolution. And while freedom, equality, and brotherhood are great ideals for a country, I'm not sure about one of them for agile teams: Equality.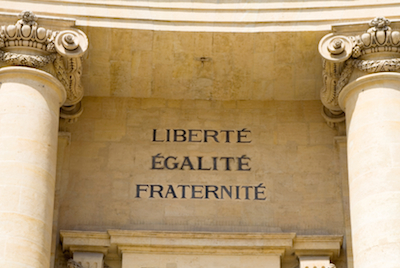 I'm frequently asked if agile means that everyone is equal on an agile team. The feeling is that self-organization means everyone should be equal--including that junior intern that started yesterday.
Fortunately, self-organization does not require everyone to be equal. In fact, self-organization requires the opposite: there must be differences between the agents who are self-organizing.
In her Ph.D. dissertation on self-organization, Glenda Eoyang wrote that self-organization requires three things: a container, differences and transforming exchanges. This is known as the CDE model, for "Containers, Differences, and Exchanges.
Differences are necessary for self-organization to occur because otherwise, any organization that emerged would be random. There would be no advantage to one agent (person) doing something rather than someone else if all agents were identical. So, differences are necessary. And, fortunately, when dealing with humans, differences abound.
So, no, becoming good at agile does not require everyone on a team to be treated equally. Each team member should get the respect he or she deserves. When an experienced team member with a track record of giving solid advice says something will be difficult, others should consider that opinion.
When that junior intern we hired yesterday says the same, team members should listen politely but give only minor credence to the opinion.
Another meaning of equality could mean that all team members do the same work – meaning everyone in agile becomes a generalist and we have no room for specialists. That's an equality myth that I'll address next week.
In the comments section below, let me know what you think, and how your team works. Is everyone equal on your team?