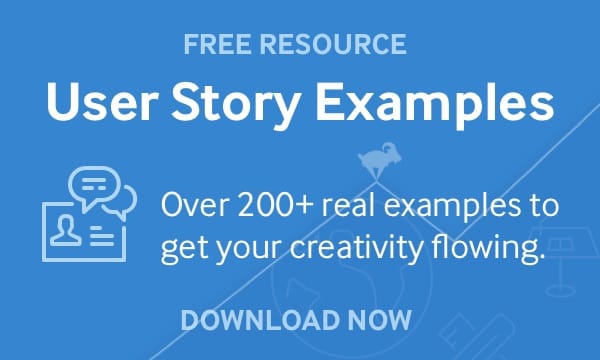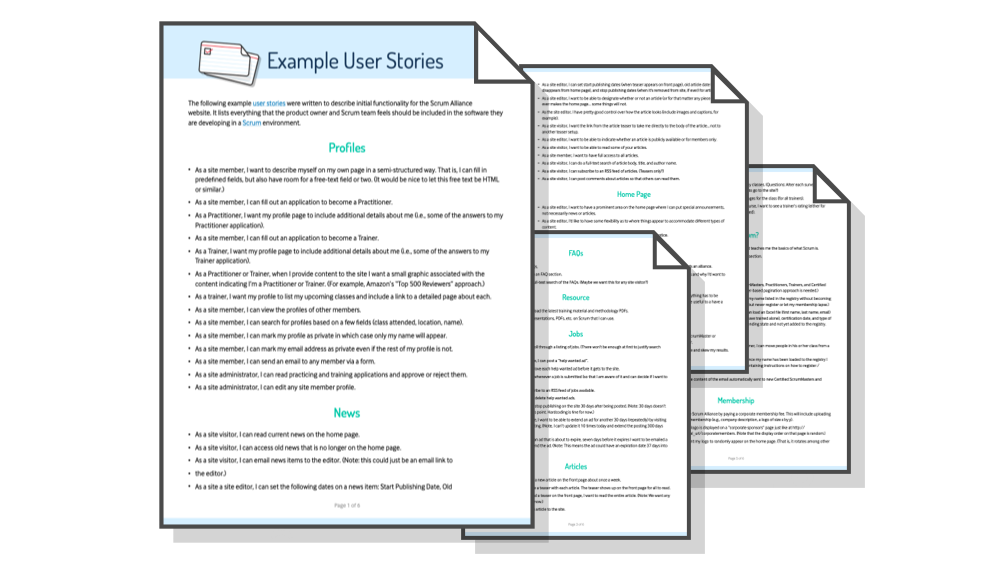 Get 200 Real Life User Stories
Examples Written by Mike Cohn
User stories are simple, powerful tools but only if they're written in a way that encourages communication, helps you prioritize and plan a product, and keep the focus on end-user value.
A great way to do this is through a user story-writing workshop. Scheduling a workshop to write user stories can make it easier to generate a product backlog. But running a story-writing workshop opens up a whole new set of questions for people. Questions like:
How often do you hold a workshop? Should it be once a year? Every iteration? Somewhere in between?
How do you know who to include? If it's just a subset of the team are you missing valuable ideas? If you include everyone how do you avoid conflicts and off-topic discussions?
How should user stories be documented, managed and prioritized so you don't leave a workshop feeling busier than before?
These questions are very common and while user story-writing workshops are an excellent way to generate a product backlog, it's important to do them the right way. Even experienced agile teams find themselves going through a lot of trial and error to run a workshop that delivers great results.
That's why I created this FREE training Video:
Video: Three Tips for Successful Story Mapping in a Story-Writing Workshop
This 20-minute training video is the first in a series on overcoming the top challenges agile teams face when writing user stories. Video one reveals what you can do to avoid common problems and run a successful story-writing workshop.
Register today to watch the first video and be notified when the next FREE training videos are released. Other topics include splitting stories, and achieving the right level of detail in user stories.
More than 10,000 people have already watched this first video and I hope you'll also find it valuable:

What you'll learn in the first training video
One: How to keep a user story-writing workshop focused and productive
In any workshop where there is creative brainstorming and problem solving, it's easy to find yourself with a lot of activity but little output at the end of the day.
In this video, you'll learn:
How often you should hold a workshop, and how far ahead you should plan so you can move quickly without missing functionality
Why a product vision is critical (and two approaches to ensure you have a strong, easily communicated vision)
How to prevent scope creep so that discussions don't turn into arguments over features.
I'll also share two brief case studies that show why it's easy to upset the balance of having too much, and too little input when writing user stories.
Two: How to get input from the whole team without time-wasting arguments
Many teams acknowledge that if everyone were involved in writing user stories, tacit knowledge could be shared, questions could be answered sooner, and you'd benefit from the valuable perspectives of the entire team.
But this can be hard to make happen.
Getting everyone together often creates headaches rather than harmonious discussions.
That's why this video also shows you how to:
Benefit from developer insight while focusing on business value over technical tasks.
Gently (but firmly) guide stakeholders so that they don't disrupt the session with personal priorities.
Identify the two situations where it's okay to not include everyone in a workshop.
Plus I'll outline why a user story writing workshop doesn't cost as much time as you may think (and actually saves time over the course of a project).
Three: How to use a story map to plan multiple iterations in one workshop
In the video watch me create a story map step-by-step to reveal:
How to graphically visualize the relationship of user stories as they're being written.
The "Then / Or" technique to find user stories and functionality you may have overlooked.
Why a simple line is all you need to quickly plan and prioritize user stories for many future iterations.
I'm a big fan of story mapping and know how much it can speed up the user story-writing process without compromising quality. One member of the Better User Stories course explained just how much a difference the story-mapping element of the workshop had made to his project:
"In just four hours we had defined work for three releases, all pointing back to one significant objective. The entire team and stakeholders were so impressed with the exercise and were amazed at the results." - Peter. Better User Stories Member.
Watch the video and get access to the full FREE series
As I mentioned, this training video is the first in a free series all about writing Better User Stories. You get instant access to the video once you register and you'll also receive an email to find out when the next free video is available.