In Improving Agile Retrospectives, leading agile coach/trainer Marc Loeffler combines practical guidance, proven practices, and innovative approaches for maximizing the value of retrospectives for your team―and your entire organization. You can apply his powerful techniques in any project, agile or otherwise. These techniques offer exceptional value wherever continuous improvement is needed: from "lessons-learned" workshops in traditional project management to enterprise-wide change management.

Loeffler's detailed, results-focused examples help you recognize and overcome common pitfalls, adapt retrospectives to your unique needs, and consistently achieve tangible results. Throughout, he integrates breakthrough concepts, such as using experimentation and learning from system thinking. He presents small ideas that make a big difference―because they're deeply grounded in real experience.
---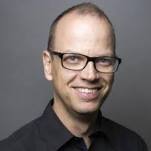 Marc Loeffler
Marc Loeffler is a keynote speaker, author, and agile coach. Before encountering agile methods and principles in 2006, he was working as a traditional project manager for companies like Volkswagen AG and Siemens AG. His passion is to help teams implement agile frameworks like Scrum and XP and to transform our world of work. Marc has a passion for helping teams that are struggling with agile transitions and overcoming dysfunctional behavior. He loves to generate new insights by approaching common problems from the other side and trying to wreak havoc on the process deliberately.