Scrum is rapidly gaining momentum as the most popular agile framework primarily because its concepts are simple and they just make sense. However, this perceived simplicity often gives rise to the false sense that Scrum is a 'silver bullet' and trivial to implement. When 'rubber hits the road', the new Scrum team will often find that translating the framework into effective, practical approaches is anything but easy.
Full of easily digestible chapters, 'Scrum Shortcuts Without Cutting Corners' presents a range of tactics, tools and tips that may be employed by a Scrum team to help them reach the next level of efficiency and maturity.
Ilan blogs at Scrum Shortcuts without Cutting Corners
---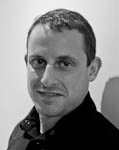 Ilan Goldstein
Ilan is a Sydney-based Certified Scrum Trainer (CST) and director of AxisAgile. He works with startups, market leaders and public companies to improve their agility through the implementation of Scrum.